Celebrating 25 years...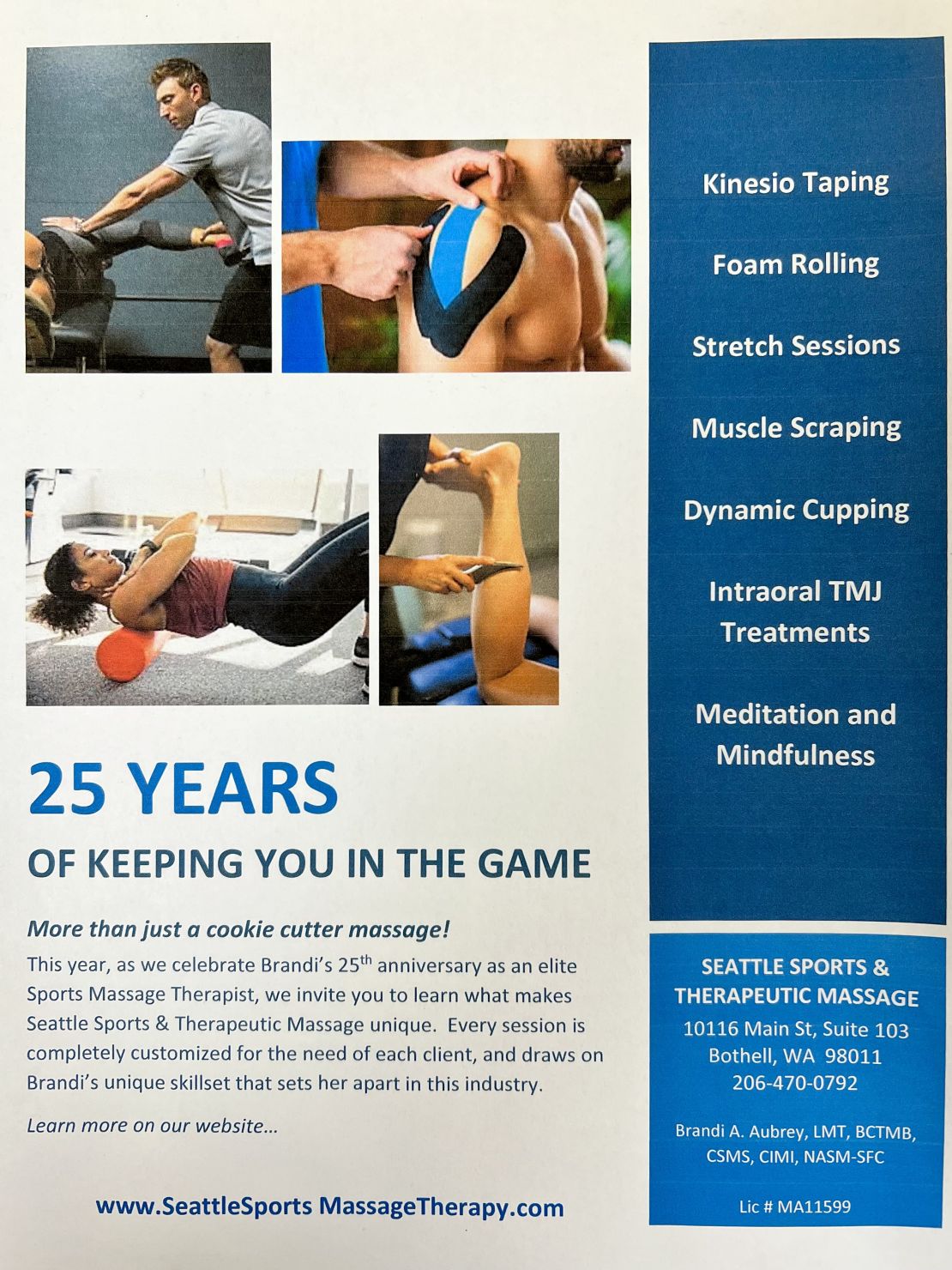 Located in the heart of Bothell's historic Main Street, we are proud to be one of the top sports massage therapy practices in the region! Brandi's 25 years treating athletes of all levels gives her an edge that is rarely seen in this industry. She takes her decades of experience, and combines it with the latest techniques and advancements in myotherapy to create custom treatment plans for every individual. This is not your "cookie cutter" massage!
Kinesiology taping, stretch sessions, foam rolling training, dynamic cupping, IASTM treatments, muscle flossing, and even meditation and mindfulness training help add to the variety of advaced sports massage techniques to help extend the benefits of the massage beyond the immediate time you are in our clinic.
For more information about the therapist, what we offer, where we are located, and so much more, simply click on the menu on the left. If you have any additional questions, or would like to book an appointment, just give us a call! phone 206-470-0792
Need to send us a fax? fax 425-482-2434
*** Notice ***
Covid-19 Protocols - Masking Update
As of April 3rd, the mandatory mask mandate for healthcare in the State of Washington has been lifted, and each healthcare facility can set any masking policy they feel is appropriate for their business. Masking will continue to be required for staff. Masking is higly encouraged and preferred for patients and visitors, but not required. If you would like to mask, masks will continue to be provided free of charge.
Keeping of our clients, staff, and their families remains the utmost priority during these uncertain times. We have taken numerous precautions to minimize risk, and implemented enhanced sanitization measures. Our industry is getting recomendations from multiple agancies for new safety guidelines. These recomendations are constantly being checked and updated as new recomendations come out. When recomendations contradict eachother, we are choosing the more strict safety guidelines out of an abundance of caution in order to help keep you, as well as our staff, as safe as possible at this time. You can see all of our changes and safety measures in the COVID-19 Changes section of our website.
Thank you!